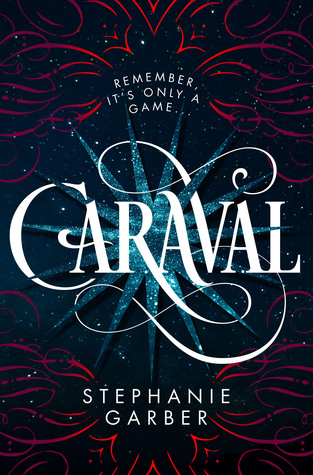 Title: Caraval
Author: Stephanie Garbar
Published: January 31st 2017 by Flatiron Books
Genre: Fantasy, Young Adult, Romance
Stars:  5    Content Rating: 3
Synopsis:    Remember, it's only a game…
Scarlett Dragna has never left the tiny island where she and her sister, Tella, live with their powerful, and cruel, father. Now Scarlett's father has arranged a marriage for her, and Scarlett thinks her dreams of seeing Caraval—the faraway, once-a-year performance where the audience participates in the show—are over.
But this year, Scarlett's long-dreamt-of invitation finally arrives. With the help of a mysterious sailor, Tella whisks Scarlett away to the show. Only, as soon as they arrive, Tella is kidnapped by Caraval's mastermind organizer, Legend. It turns out that this season's Caraval revolves around Tella, and whoever finds her first is the winner.
Scarlett has been told that everything that happens during Caraval is only an elaborate performance. Nevertheless she becomes enmeshed in a game of love, heartbreak, and magic. And whether Caraval is real or not, Scarlett must find Tella before the five nights of the game are over or a dangerous domino effect of consequences will be set off, and her beloved sister will disappear forever.
Welcome, welcome to Caraval…beware of getting swept too far away.
******
I am so excited to be in my new house!! Now that I am in, with most things put away I can get back to the important things… like reading! It has been a super busy and crazy month but now I am ready for things like cold weather and snuggling up inside to read all day. Bring on Winter and all the fun family filled holidays!
I have had this book on my list for a L O N G time. I see pictures of it all over Instagram and I thought it sounded intriguing. It never made it to my "I have to buy this book" list but when I was looking for a new book to listen to on Audibles and it popped up. I decided to give a go and now I can not wait for book 2. I will be buying both for my reading room. (yes.. the new house is going to have a reading room.. I am beyond excited!) This book was so good. The whole time I was trying to figure out what the end game is going to be. What is real? They say it is all a game, but how much if it is just a game? When the game is over… how did it change you? Who are players and who is actually playing? The plot was so good. It was magical and different. I loved how it kept me guessing. The sisterly bond is a fun twist to see. There is a little romance and then the ending left you wanting more. The sequel "Legendary" comes out next May and it is going to kill me to wait. I seem to like waiting. You would think I would learn to wait for the whole series to come out before I jump in but I haven't. A part of me likes the wait. I think it's because I enjoy having something to look forward to. If this is you, then READ THIS BOOK ASAP. You will love it. If you need to wait for the series to come out, I totally get it but you should definitely put this series on your TBR.
Thanks for reading!